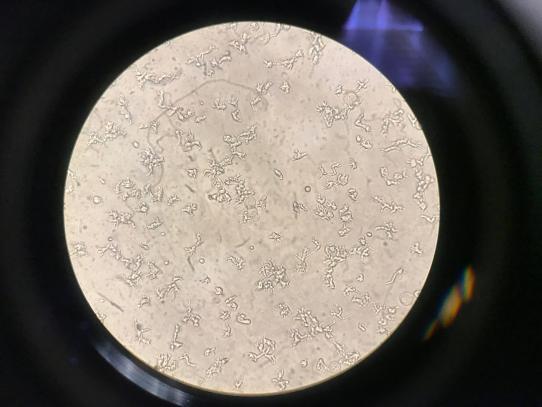 ---
Publications
 
Fischer C, Ibiricu Urriza I, Bulman CA, Lim KC, Gut J, Lachau-Durand S, Engelen M, Quirynen L, Tekle F, Baeten B, Beerntsen B, Lustigman S, Sakanari J. Efficacy of subcutaneous doses and a new oral amorphous solid dispersion formulation of flubendazole on male jirds (Meriones unguiculatus) infected with the filarial nematode Brugia pahangi. PLoS Negl Trop Dis. 2019 Jan 16;13(1):e0006787.

Voronin D, Tricoche N, Jawahar S, Shlossman M, Bulman CA, Fischer C, Suderman MT, Sakanari JA, Lustigman S. Development of a preliminary in vitro drug screening assay based on a newly established culturing system for pre-adult fifth-stage Onchocerca volvulus worms. PLoS Negl Trop Dis. 2019 Jan 17;13(1):e0007108. doi: 10.1371/journal.pntd.0007108.PMID:30653499 doi:10.1371/journal.pntd.0006787. eCollection 2019 Jan. PMID:3065008

Laurie MT, White CV, Retallack H, Wu W, Moser MS, Sakanari JA, Ang K, Wilson C, Arkin MR, DeRisi JL. Functional Assessment of 2,177 U.S. and International Drugs Identifies the Quinoline Nitroxoline as a Potent Amoebicidal Agent against the Pathogen Balamuthia mandrillaris. MBio. 2018 Oct 30;9(5). pii: e02051-18. doi: 10.1128/mBio.02051-18. PMID:30377287

Tyagi R, Maddirala AR, Elfawal M, Fischer C, Bulman CA, Rosa BA, Gao X, Chugani R, Zhou M, Helander J, Brindley PJ, Tseng CC, Greig IR, Sakanari J, Wildman SA, Aroian R, Janetka JW, Mitreva M.Small Molecule Inhibitors of Metabolic Enzymes Repurposed as a New Class of Anthelmintics. ACS Infect Dis. 2018 Jul 13;4(7):1130-1145. doi: 10.1021/acsinfecdis.8b00090. Epub 2018 May 14. PMID:29718656

Bulman CA, Bidlow CM, Lustigman S, Cho-Ngwa F, Williams D, Rascón AA, Tricoche N, Samje M, Bell A, Suzuki B, Lim KC, Supakorndej N, Supakorndej P, Wolfe AR, Knudsen GM, Chen S, Wilson C, Ang KH, Arkin M, Gut J, Franklin C, Marcellino C, McKerrow JH, Debnath A, Sakanari JA. Repurposing auranofin as a lead candidate for treatment of lymphatic filariasis and onchocerciasis. PLoS Negl Trop Dis. 2015 Feb; 9(2):e0003534. PMID: 25700363.

Geary TG, Sakanari JA, Caffrey CR. Anthelmintic drug discovery: into the future. J Parasitol. 2015 Apr; 101(2):125-33. PMID: 25584662.
 
Storey B, Marcellino C, Miller M, Maclean M, Mostafa E, Howell S, Sakanari J, Wolstenholme A, Kaplan R. Utilization of computer processed high definition video imaging for measuring motility of microscopic nematode stages on a quantitative scale: "The Worminator". Int J Parasitol Drugs Drug Resist. 2014 Dec; 4(3):233-43. PMID: 25516834.
 
Ndao M, Nath-Chowdhury M, Sajid M, Marcus V, Mashiyama ST, Sakanari J, Chow E, Mackey Z, Land KM, Jacobson MP, Kalyanaraman C, McKerrow JH, Arrowood MJ, Caffrey CR. A cysteine protease inhibitor rescues mice from a lethal Cryptosporidium parvum infection. Antimicrob Agents Chemother. 2013 Dec; 57(12):6063-73. PMID: 24060869; PMCID: PMC3837922.
 
Ingram JR, Rafi SB, Eroy-Reveles AA, Ray M, Lambeth L, Hsieh I, Ruelas D, Lim KC, Sakanari J, Craik CS, Jacobson MP, McKerrow JH. Investigation of the proteolytic functions of an expanded cercarial elastase gene family in Schistosoma mansoni. PLoS Negl Trop Dis. 2012; 6(4):e1589. PMID: 22509414; PMCID: PMC3317910.
 
Marcellino C, Gut J, Lim KC, Singh R, McKerrow J, Sakanari J. WormAssay: a novel computer application for whole-plate motion-based screening of macroscopic parasites. PLoS Negl Trop Dis. 2012 Jan; 6(1):e1494. PMID: 22303493; PMCID: PMC3269415.
 
Ingram J, Knudsen G, Lim KC, Hansell E, Sakanari J, McKerrow J. Proteomic analysis of human skin treated with larval schistosome peptidases reveals distinct invasion strategies among species of blood flukes. PLoS Negl Trop Dis. 2011 Sep; 5(9):e1337. PMID: 21980548; PMCID: PMC3181243.
 
DuBois KN, Abodeely M, Sakanari J, Craik CS, Lee M, McKerrow JH, Sajid M. Identification of the major cysteine protease of Giardia and its role in encystation. J Biol Chem. 2008 Jun 27; 283(26):18024-31. PMID: 18445589; PMCID: PMC2440617.
 
Nadler SA, D'Amelio S, Dailey MD, Paggi L, Siu S, Sakanari JA. Molecular phylogenetics and diagnosis of Anisakis, Pseudoterranova, and Contracaecum from northern Pacific marine mammals. J Parasitol. 2005 Dec; 91(6):1413-29. PMID: 16539026.
 
Kim YM, Hwang HA, Yun WS, Kim SI, Lee KW, Park SK, Lee YJ, Kim TK, Wongsrichanalai C, Sakanari JA, Park H. Efficacy of the merozoite surface protein 1 of Plasmodium vivax as an antigen for ELISA to diagnose malaria. Yonsei Med J. 2004 Feb 29; 45(1):129-34. PMID: 15004879.
 
Park SY, Lee KH, Hwang YB, Kim KY, Park SK, Hwang HA, Sakanari JA, Hong KM, Kim SI, Park H. Characterization and large-scale expression of the recombinant cysteine proteinase from adult Clonorchis sinensis. J Parasitol. 2001 Dec; 87(6):1454-8. PMID: 11780837.
 
Park H, Hong KM, Sakanari JA, Choi JH, Park SK, Kim KY, Hwang HA, Paik MK, Yun KJ, Shin CH, Lee JB, Ryu JS, Min DY. Paragonimus westermani: cloning of a cathepsin F-like cysteine proteinase from the adult worm. Exp Parasitol. 2001 Aug; 98(4):223-7. PMID: 11560415.
 
Renard G, Garcia JF, Cardoso FC, Richter MF, Sakanari JA, Ozaki LS, Termignoni C, Masuda A. Cloning and functional expression of a Boophilus microplus cathepsin L-like enzyme. Insect Biochem Mol Biol. 2000 Nov; 30(11):1017-26. PMID: 10989288.
 
Rowley HA, Uht RM, Kazacos KR, Sakanari J, Wheaton WV, Barkovich AJ, Bollen AW. Radiologic-pathologic findings in raccoon roundworm (Baylisascaris procyonis) encephalitis. AJNR Am J Neuroradiol. 2000 Feb; 21(2):415-20. PMID: 10696033.
 
Selzer PM, Pingel S, Hsieh I, Ugele B, Chan VJ, Engel JC, Bogyo M, Russell DG, Sakanari JA, McKerrow JH. Cysteine protease inhibitors as chemotherapy: lessons from a parasite target. Proc Natl Acad Sci U S A. 1999 Sep 28; 96(20):11015-22. PMID: 10500116; PMCID: PMC34234.
 
Nguyen TT, Qasim MA, Morris S, Lu CC, Hill D, Laskowski M, Sakanari JA. Expression and characterization of elastase inhibitors from the ascarid nematodes Anisakis simplex and Ascaris suum. Mol Biochem Parasitol. 1999 Jul 30; 102(1):79-89. PMID: 10477178.
 
Chan VJ, Selzer PM, McKerrow JH, Sakanari JA. Expression and alteration of the S2 subsite of the Leishmania major cathepsin B-like cysteine protease. Biochem J. 1999 May 15; 340 ( Pt 1):113-7. PMID: 10229665; PMCID: PMC1220228.
 
Lu CC, Nguyen T, Morris S, Hill D, Sakanari JA. Anisakis simplex: mutational bursts in the reactive site centers of serine protease inhibitors from an ascarid nematode. Exp Parasitol. 1998 Jun; 89(2):257-61. PMID: 9635450.
 
Selzer PM, Chen X, Chan VJ, Cheng M, Kenyon GL, Kuntz ID, Sakanari JA, Cohen FE, McKerrow JH. Leishmania major: molecular modeling of cysteine proteases and prediction of new nonpeptide inhibitors. Exp Parasitol. 1997 Nov; 87(3):212-21. PMID: 9371086.
 
Hill DE, Sakanari JA. Trichuris suis: thiol protease activity from adult worms. Exp Parasitol. 1997 Jan; 85(1):55-62. PMID: 9024202.
 
Sakanari JA, Nadler SA, Chan VJ, Engel JC, Leptak C, Bouvier J. Leishmania major: comparison of the cathepsin L- and B-like cysteine protease genes with those of other trypanosomatids. Exp Parasitol. 1997 Jan; 85(1):63-76. PMID: 9024203.
 
Whitaker DJ, Kent ML, Sakanari JA. Kudoa miniauriculata n. sp. (Myxozoa, Myxosporea) from the musculature of bocaccio (Sebastes paucispinis) from California. J Parasitol. 1996 Apr; 82(2):312-5. PMID: 8604103.
 
Hagen HE, Kläger SL, Chan V, Sakanari JA, McKerrow JH, Ham PJ. Simulium damnosum s.l.: identification of inducible serine proteases following an Onchocerca infection by differential display reverse transcription PCR. Exp Parasitol. 1995 Nov; 81(3):249-54. PMID: 7498421.
 
Morris SR, Sakanari JA. Characterization of the serine protease and serine protease inhibitor from the tissue-penetrating nematode Anisakis simplex. J Biol Chem. 1994 Nov 4; 269(44):27650-6. PMID: 7961683.
 
Hotez P, Cappello M, Hawdon J, Beckers C, Sakanari J. Hyaluronidases of the gastrointestinal invasive nematodes Ancylostoma caninum and Anisakis simplex: possible functions in the pathogenesis of human zoonoses. J Infect Dis. 1994 Oct; 170(4):918-26. PMID: 7930737.
 
Richer JK, Hunt WG, Sakanari JA, Grieve RB. Dirofilaria immitis: effect of fluoromethyl ketone cysteine protease inhibitors on the third- to fourth-stage molt. Exp Parasitol. 1993 May; 76(3):221-31. PMID: 8500582.
 
Richer JK, Sakanari JA, Frank GR, Grieve RB. Dirofilaria immitis: proteases produced by third- and fourth-stage larvae. Exp Parasitol. 1992 Sep; 75(2):213-22. PMID: 1516669.
 
McGrath ME, Hines WM, Sakanari JA, Fletterick RJ, Craik CS. The sequence and reactive site of ecotin. A general inhibitor of pancreatic serine proteases from Escherichia coli. J Biol Chem. 1991 Apr 5; 266(10):6620-5. PMID: 2007606.
 
Sakanari JA. Anisakis - from the platter to the microfuge. Parasitol Today. 1990 Oct; 6(10):323-7. PMID: 15463257.
 
Sakanari JA, McKerrow JH. Identification of the secreted neutral proteases from Anisakis simplex. J Parasitol. 1990 Oct; 76(5):625-30. PMID: 2213405.
 
Sakanari JA, Moser M. Adaptation of an introduced host to an indigenous parasite. J Parasitol. 1990 Jun; 76(3):420-3. PMID: 2352072.
 
Eakin AE, Bouvier J, Sakanari JA, Craik CS, McKerrow JH. Amplification and sequencing of genomic DNA fragments encoding cysteine proteases from protozoan parasites. Mol Biochem Parasitol. 1990 Feb; 39(1):1-8. PMID: 2406590.
 
Sakanari JA, Staunton CE, Eakin AE, Craik CS, McKerrow JH. Serine proteases from nematode and protozoan parasites: isolation of sequence homologs using generic molecular probes. Proc Natl Acad Sci U S A. 1989 Jul; 86(13):4863-7. PMID: 2662185; PMCID: PMC297515.
 
Sakanari JA, McKerrow JH. Anisakiasis. Clin Microbiol Rev. 1989 Jul; 2(3):278-84. PMID: 2670191; PMCID: PMC358121. 
 
Lackey A, James ER, Sakanari JA, Resnick SD, Brown M, Bianco AE, McKerrow JH. Extracellular proteases of Onchocerca. Exp Parasitol. 1989 Feb; 68(2):176-85. PMID: 2647506.
 
McKerrow JH, Sakanari J, Deardorff TL. Anisakiasis: revenge of the sushi parasite. N Engl J Med. 1988 Nov 3; 319(18):1228-9. PMID: 3173465.
 
Sakanari JA, Loinaz HM, Deardorff TL, Raybourne RB, McKerrow JH, Frierson JG. Intestinal anisakiasis. A case diagnosed by morphologic and immunologic methods. Am J Clin Pathol. 1988 Jul; 90(1):107-13. PMID: 3291604.
 
Amiri P, Sakanari J, Basch P, Newport G, McKerrow JH. The Schistosomatium douthitti cercarial elastase is biochemically and structurally distinct from that of Schistosoma mansoni. Mol Biochem Parasitol. 1988 Mar; 28(2):113-20. PMID: 2452979.
 
Moser M, Sakanari J, Heckmann R. The effects of praziquantel on various larval and adult parasites from freshwater and marine snails and fish. J Parasitol. 1986 Feb; 72(1):175-6. PMID: 3712174.